'I am no better than my fathers'. It's a saying embedded in a story of a troubled man. He spoke those words in despair and on the point of giving up. Yet from somewhere, he found the will and energy pick himself up and do what he was supposed to do.
As a business, no as an individual I've often felt beaten, felt hope evaporate like the last drying puddle in a scorched land.  The man in the story took shelter under a tree and must have wondered when his end would come.  Like him, none of is any better than our fathers, than those who've gone before us.  It seems to me we have an obligation to build on what they have built, the foundations they have laid.
Attached to this particular blog there is an extract from a book I wrote a year or so ago.  It's just a story, or rather it's an extract from a story.  The setting is an old bank building, where the bank has closed and been turned into a café in which there is a project supporting business start-ups.  I don't want to say more about that now.  Except, the extract is just an extract, a snippet from the building's life.  Much has gone before and much will come after.
Day 17 – Standing on the Shoulders of Giants
As we all know, I am writing this blog aware that the snippet in time we are all experiencing is seeing turmoil for many businesses, is seeing people lose their livelihood and is seeing people's well-being under threat.  It's difficult to witness and still harder to experience.  So, I guess many of us can identify with that man trying to find shade under a tree when so much in his life had shattered.  Many of us will have seen our vanities stripped away and realise we are no better than those who've gone before us.  Yet, we walk the paths they have shown us.  For good or ill, we find an example in them.  Or, to use another familiar phrase we are, 'Standing on the Shoulders of Giants'.  
It was Isaac Newton who is credited with first using the phrase.  That was back in 1675.  At that time, he said of himself, 'If I have seen further it is by standing on the shoulders of Giants'.
We think of Isaac Newton as a giant of science, of architecture and much else.  So he was.  But he grew up in a nation – England – that had gone through the turmoil of civil war, ongoing political unrest and let's not forget, plague and disease!  Without wishing to minimise the experience of people around us, times Isaac Newton lived in were more extreme than ours.  
If we are wise, we will know, we stand on the shoulders of Giants, seeking a new way across a difficult new wilderness.
If we are humble enough, even in times of dryness, when shelter seems so rare, we will recognise we are no better than those who have gone before us.  
Yet also, I have to say that as I look around me, I recognise I am building.  It is my obligation, my calling, my vocation to build.  It's an obligation, calling and vocation entrepreneurs share in dry, wilderness times.  But I think we have to build differently.
This is how I am building. 
I've spent years researching and developing new ways to support people and organisations making decisions and then tracking the impact of those decisions.  And as it happens on this very day – the day I am publishing this blog – the fruit of this research and development is being launched as a resource for businesses.  And I am very excited.
What has been created integrates resources for the ongoing assessment, development and performance management of people in a single, graphics-based resource you and your colleagues can access on any web-enabled device.  So it is perfect for remote workers and perfect for connecting people to performance.
It's a new product, for a new season as we build on what's gone before.  I hope you like it and will use it, a fresh resource for challenging times.
I hope too that you enjoy the extract from my book, The Journal of Bran Ayton, where we catch up with Bran having tea and cake in a café that was once a bank.  He's reflecting on aspects of his life and the people around him.  He's gone back, in order to go forward.  I would invite you to do the same.  
Perhaps you would also like to learn about what we have created as you plan your way forward.  You can find out more here: https://www.spiceframework.com/my-account/  Or, if you like feel free to contact me direct at Michael@innovationpeople.co.uk.  
Michael Croft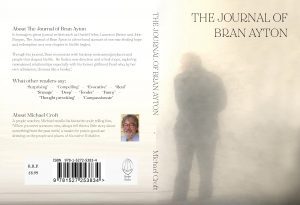 Written by Michael Croft
December 4, 2020